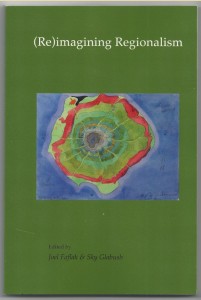 Contribution to (Re)Imagining Regionalism
(Re)imaging Regionalism seeks to examine the Regionalist movement in London during the 1960s – which was predominantly characterized by Greg Curnoe and Jack Chambers – in a new light. As a major event in London's cultural history, Regionalism is often celebrated as a galvanizing force for the city's creative sector. It focused attention on what it means to make art in a specific time and place.
A full list of contributors to (Re)imagining Regionalism is as follows: D. M. R. Bentley, Paul Butler, Joel Faflak, Robert Fones, Sky Glabush, Sky Goodden, Jason Hallows, Patrick Howlett, Madeline Lennon, Lucy Lippard, Patrick Mahon, Jason McLean, Robert McKaskell, Kim Neudorf, Judith Rodger and Ross Woodman.
http://www.brownanddickson.com/shop/reimagining-regionalism